Discover more from LikeCoin
English monthly updates about the LikeCoin ecosystem in decentralized publishing.
Over 15,000 subscribers
Donate $1 to help LikeCoin get matching fund
Round 5 of Gitcoin Fund this Grant ends tomorrow
LikeCoin
is a decentralized protocol for content monetization, attribution, and distribution.

During this difficult time and period of disruption caused by COVID-19, our thoughts are with everyone-from you and your families. Our team has been practicing social distancing since February yet we keep our hands full on upcoming project development.
We are participating in Round 5 of Gitcoin Matching Fund for Public Good. Each $1 that you donate will be match up to a certain % using the quadratic funding formula, which priorities individual voices over dollars. All received funds will help support LikeCoin operations. Gitcoin Grant is an open source funding space that allows open source developers to get paid for their work (just like us!)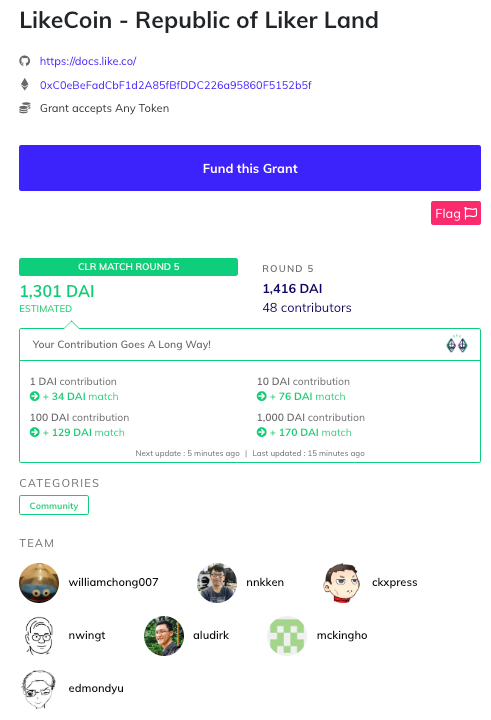 We spent the past 2 years to build the first part of our promised ecosystem, putting content monitization concept to practices. We acquired users, build partnerships and had solid foundation of users. With the launch of LikeCoin chain in 2019, we are able to kick off the second phase content attribution. We call it the ISCN - ISBN for digital content. Our system architect put together the latest documentation and early concepts. The ISCN feature is expected to arrive later this year, in the next LikeCoin chain update, codenamed FoTan.
Announced Partnership with
Vocus
We are excited to have Vocus on board in addition to the existing partnerships we have with WordPress, Medium, blogspot and other 900+ other content platforms and media. Vocus writers can now enable LikeCoin button in their content.
LikeCoin community
#channel
moved to g0v Slack
Join the conversation! You can now exchange ideas, feedback and comments with our team and core users on Slack.
Number of Addresses: 9,086

Number of Transactions: 179,464

Number of Delegated Tokens: ~254,190,000 LIKE
Want to get involved? Learn more
here
.